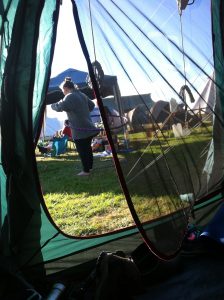 Summertime?! With the wet, drippy weather on the Monday of the holiday weekend, it's hard to believe it's early August. But I am happy to report that my batteries are recharged after a wonderful July…… I am really energised and excited to be starting another new term of pilates and movement classes in early September.
I admit that I often find summer a bit challenging. I am sure I am not alone in that? All the hopes for good weather, kids off school, holiday expectations, insect bites, noisy tractors on small roads, and so on. I generally prefer the in-between seasons of spring and autumn.
But this summer was different for me. I am just back from a deeply relaxing, inspiring break. With my husband and one daughter, we were camping with about 500 others off-the-grid for nine days (no electrical power whatsoever), sharing great food cooked over open fires. The weather was kind to us: no heavy rain, no really chilly days and some warm sunshine. Another positive aspect is that we didn't have to travel far from home, no stressful airports or long journeys.
Every day was full of wonderful music and interesting exchanges of ideas. My days mostly started with the ancient 'Dance of Life', symbolic of our connection with the earth and nature. I did lots of fantastic yoga and movement workshops; I did multi-part harmony singing that often took me into a deep meditative state; I learnt basic drumming techniques (loved it) and I heard seasoned drummers and percussionists that made me dance, dance, DANCE!
I will sustain this energy in positive ways throughout the coming days, weeks and months. I feel empowered by all I have learned this summer. I feel aware and conscious in my body and my life.
Life can be hard. We all have to learn how to be kind to ourselves, how to love ourselves so we can love others. There are little things we can do everyday to nourish our bodies and souls. Good movement and good food, along with learning to relax and bring loving thoughts into your heart.
On a practical note: I am taking bookings for my pilates and movement classes from Monday 22nd August onwards; existing clients get first option and then I'll be opening to anyone who wishes to join in. I look forward to meeting my pilates peeps again soon and welcoming new joiners!
Eimear x