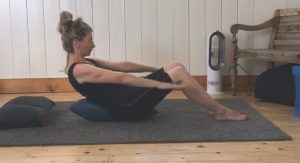 Eimear Gallagher STOTT PILATES certified, Advanced Matwork & Reformer
I am a proud 60-year old with over 14 years of professional Pilates experience, and I still love teaching!  I specialise in empowering women to discover their inner strength and find balance – not just in terms of muscle and alignment but in attitude to life!  I also work with individuals who need Pilates to address specific injuries or limiting conditions.
I have always loved dance and yoga but when I discovered Pilates in 2004, it really piqued my interest. Moving from a career of writing, editing and publishing, I began my Pilates training in 2009, studying under Dani Gonzales and Joseph McCarthy of Complete Body Movement in Dublin. I am certified in Mat Plus, Advanced Mat and Reformer Pilates with STOTT PILATES®. I am also STOTT trained in Cadillac/Tower.
I am also trained in and have lots of experience in Pilates for Injuries and Special Populations. Many doctors recommend therapeutic Pilates pre- or post-surgery or for any limiting conditions an individual may have. The larger equipment (reformer, tower, ladder barrels) and smaller props (magic circles, Oovs, small balls, therabands, etc), supports older, weaker or injured bodies to move well! Pilates helps you get from stiffness and pain to ease of movement.
I continue to study with movement educators, bringing new ideas and modalities into my own teaching. My most recent training courses were in Pilates for Menopause and Pelvic Floor Health.
with love, Eimear x
PLEASE NOTE : An email to me, a text message or a call to my mobile  (086 8184218) is surest way to get in touch with me! I try to stay off social media for lengthy periods so may miss messages there!